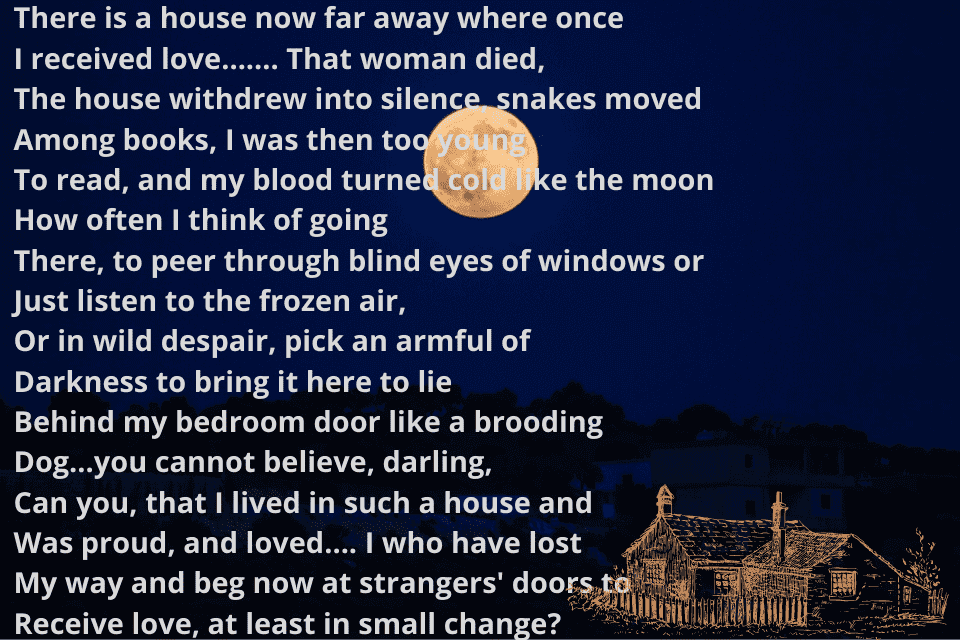 there is a house now far away where once
I received love… That woman died,
The house withdrew into silence, snakes moved
Among books, I was then too young
To read, and my blood turned cold like the moon.
How often I think of going
There, to peer through blind eyes of windows or
Just listen to the frozen air,
Or in wild despair, pick an armful of
Darkness to bring it here to lie
Behind my bedroom door like a brooding
Dog…. you cannot believe, darling,
Can you, that I lived in such a house and
Was proud, and loved…. I who have lost
My way and beg now at strangers' doors to
Receive love, at least in small change?
my grandmother's house summary
My Grandmothers House, which Shows Kamla Das Intense Love and attachment for it. She Remembers Her Grandmother and the intense love she Got there.
The poet is now a married woman living with her husband away from her parents' house. Her life os is devoid of love. So In a nostalgic mood, she thinks of her grandmother's house where she had received love. The grandmother's home is far away from the present abode of her husband. It was a house where she once had received love from her grandmother. But alas! the grandmother died, and with her death disappeared, warmth and love permeating the home. It was surrounded by silence; the books in the library which she could not read at that time lost their inspiration. Snakes seem to wriggle among them. The grandmother's death sapped the life out of her, and her blood turned as cold as the moon.
Though things changed with grandmother's death, the memories of her personality and loved to remind indelibly, and the love and warmth once enjoyed I the grandmother's house remains a source of strength in the moments of the life of lovelessness and frustration.
Many times, when in a helplessly miserable condition, she thinks of going to her grandmother's house and look through the windows and listen to the sound of air. Though there is nothing warmth-giving inside and the atmosphere is frozen, yet whatever is left is worth-retaining. Even the lonely house is dear to the piet because it once belonged to the grandmother she had received love and warmth. So in the moments of 'wild despair,' she longs to visit the grandmother's house and return with an armful of darkness' to keep it behind her bedroom door and wishes it to remain there as a watchful dog to guard whatever hope remains in life. In other words, even the darkness of a lonely house is something to be cherished and valued in her loveless married life.

The poet tells her husband that, though he will not believe she had once a house, that is her grandmother's house, where she received love and was proud of herself. But now she has lost her identity, and she has to beg from the strangers for warmth and love, however, meager it.