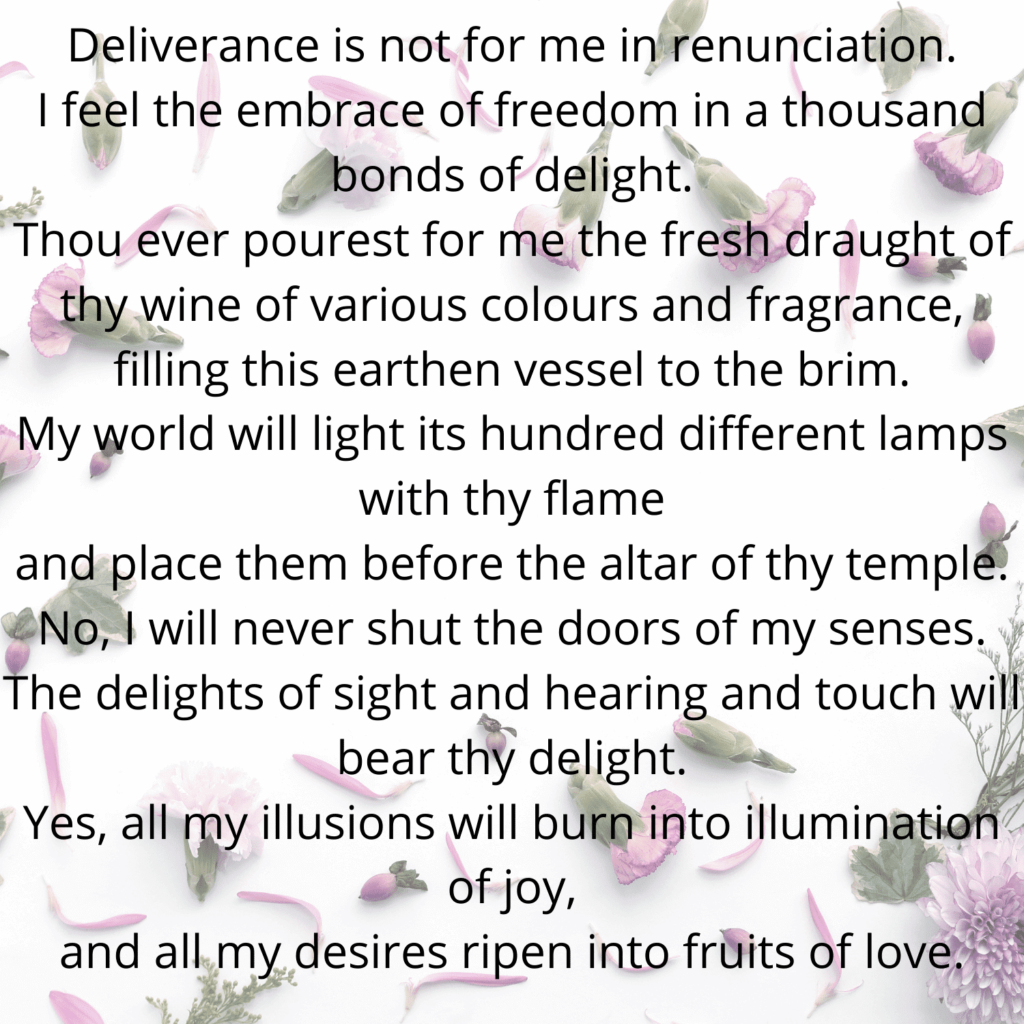 Deliverance is not for me in renunciation.
I feel the embrace of freedom in a thousand bonds of delight.
Thou ever pourest for me the fresh draught of thy wine of various colours and fragrance, filling this earthen vessel to the brim.
My world will light its hundred different lamps with thy flame
and place them before the altar of thy temple.
No, I will never shut the doors of my senses.
The delights of sight and hearing and touch will bear thy delight.
Yes, all my illusions will burn into illumination of joy,
and all my desires ripen into fruits of love.
Introduction to the poem
According to popular belief and conception, a mystic is he, who renounces the world and shuns the pleasures of the senses. but Rabindranath Tagore is not this type of mystic poet. He neither renunciates the world nor does he shun the pleasures of senses.
summary
According to the poet, the actual deliverance or rescue is not in abandoning the world and its activities. the poet feels the pleasure of deliverance is in a thousand bonds of delight. These thousand bounds of delight are the various duties, which man has to discharge in this world for the true joy and delight lies in discharging the duties, which have been assigned to the man in this world.
According to the poet, human life is like an earthen pot or tumbler which God fills up again and again with the wine of different colours and tastes and not to drink this wine would be the height of ingratitude. This scented and tasty wine are the various duties, which man has to discharge in each day of his life. The poet wishes to express his devotion and gratitude to God by lightning a hundred lamps by His inspiration on His altar. In other words, the poet wants to show his devotion and gratitude to God by writing songs in His, praise under divine inspiration.
God has created this beautiful world for the joy and pleasure of man and it is man's duty to enjoy the various pleasures with which God has blessed him in abundance. And a true devotee of God is he, who enjoys the pleasure of senses because this sensuous delight is the expression of the pleasure that God takes in the creation of the various objects of this world.
But this does not mean that the poet teaches a life of sensuous pleasure. Sensual delight should be sublimated and spiritualized. All that is gross and ignoble in worldly pleasures should be transformed into an expression of pure love. This transformation is possible only when a man uses all his powers and abilities in the service of his fellow beings. The true joy lies in the service of Mankind.